Woo Hoo!
After much head-thumping against online publishing systems and my own levels of distraction, the first Wise Economy publication is finally on sale!
The book is titled The Local Economy Revolution: What's Changed and How You Can Help.  It's designed to do the one thing that the piles upon piles of economic development/local government/planning books out there don't do:
It's designed to give all  of us a deep understanding about how what we need to do in our communities has changed, and help us summon the bravery and determination to go do it in the face of all the frustrations and resistance that any change-maker is going to encounter.
For that reason, I wrote it in the most accessible, personal style I could muster.  You'll find some talk in here about economic structures, measurement systems, downtown revitalization strategies and economic development incentives, but you'll also find stories designed to bring that abstract stuff down to where our guts live — to families, personal histories, loves and loss.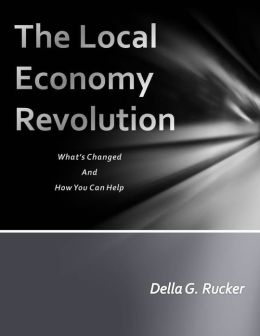 Longtime readers of the Wise Economy blog will probably recognize some of the stories, but you'll also find new stories and a new sense of comprehension, structure and meaning that becomes possible when you work in something bigger than 600 – word chunks.  And more importantly, I think you will find something here that you can share – with your colleagues, with your board members and volunteers, to help encourage them to see the big picture of what you're trying to do, and maintain the willpower to keep it going forward.  I think, and hope, that this book gives you a platform to support your own local economy revolution.
I'm obviously not just doing a charity here, but writing this book, like most of the writing I do, isn't a great money-making proposition.  The market for books is glutted and even with all the online tools, it's hard as hell for one little voice to get itself heard.  But after a lot of years of listening to the resolve and fight and  heartbreaks of many of you, and watching what works and what seems to be failing, I think this book is a message that we all need right now — that engages the head and the heart together and strengthens us to keep pursuing what we know our communities need.
So, I'm hoping you'll help.
First, if you want to buy the book, you have four current options:
You can buy it for your Kindle e-reader here.  You can also download a free Kindle Reader app for your smartphone or tablet or computer here – it works well.

You can buy it for a Barnes & Noble Nook e-reader here.
If you'd like a hard copy, nicely bound and all pretty-like version, we got'cha covered right here.
AND, if you want to go relatively old-school and don't mind doing your own printing, you can get a PDF version el cheapo here!
I'm still working on the Apple iBook edition.  But that's coming soon.
Second, if you do get a copy and read it (and you don't completely hate it), I'd be grateful for your positive review on any of the sites.  Even a couple of sentences would be helpful.  If you're really sweet, I might ask your permission to put your quote in the front of the next version!
Third, if you want to learn more about how exactly we can get this hard and important work done, bookmark http://localeconomyrevolutionbook.com.  We'll be sharing real-world examples and having important discussions over there.
Fourth, if you have colleagues, bosses, junior staffers, elected officials, volunteers or random humans that you think would benefit from the paradigm-shift and encouragement that this book offers, please share with them.
As I wrote somewhere near the end of this thing, we who are trying to make our places better often feel like a violin in the void.  But in our communities, a strong violin can change the void.  We can do that.  We have to do that.
It's a job for the head and the heart.  My deepest hope is that this book feeds both.
So vive la revolucion.  And thanks for joining me on the adventure.