It might have something to do with me still being young enough to relate to the vibrant lifestyle of 20-somethings, but it has occurred to me that the field of planning is overrepresented by old people.  Specifically, old cranky NIMBY (Not In My BackYard) men who have a tendency to desire their neighborhoods to be quiet and devoid of any activity that might upset them and their touchy sensibilities on what makes for a 'nice neighborhood.'….

If my city doesn't evolve beyond a bedroom community, these colleges will not flourish and likely close down in a few short years.  And if the some colleges can somehow manage operating in a low-attendance environment without vibrant urbanized conditions and instead a burden of maintaining space for ample parking among a struggling core, then these graduates in their 20-somethings will have little reason to stay.  They will see a bedroom community that was design by the retired, for the retired and these recent grads will be the ones cranky about the (un)city conditions and look for jobs (or start companies) elsewhere.
You have to give credit to a writer who manages to work the word "cranky" into five paragraphs about 47 times.  In this piece from the blog "
A Planner's Commitment
,"  Ryan Wozniak expresses a very common frustration with older folks' reluctance to change — one that I hear more and more from young people (and older) across a variety of community-oriented professions.  Ryan employs a little more scorn than I would prefer, but he illuminates one of the most difficult challenges of any kind of community planning, whether for economic development strategies or future land use or transportation: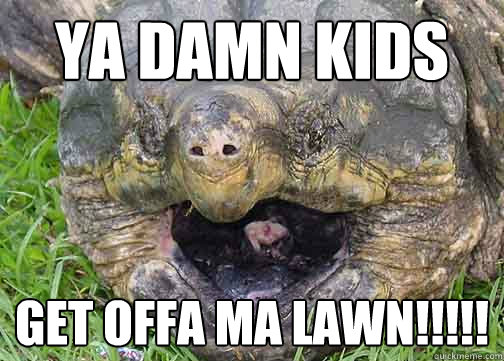 Dealing with people who aren't anticipating that the future of the community might not look like its present.
Of course, the kind of situation Ryan describes is common, and it's not limited to his community in Arizona or to surburbia in general.  But in my (never particularly humble) opinion, writing off this response as NIMBYism or crankiness is too simplistic…even though it's a write-off we do all the time.
Implicit in Ryan's situation, and in almost any where the term "NIMBY" gets applied, is a failure to meaningfully engage the public, to do two way communication, and do it consistently, transparently and intelligently enough for it to matter.
And we have got to change that.
—
My last podcast told the story of a town that has undertaken an aggressive and pretty revolutionary revisioning of itself— and done this in a community that, to everyone else in its region, seems to have everything going for it. Big suburban houses, giant office parks, great schools, fat tax rolls, lots of highly educated middle aged people.  Classic Best of Suburb kind of stuff.
I'm gonna fess up.
I was not excited about doing that podcast.
I was glad when I arranged with my friend Colleen to do it a few weeks earlier, but I ended up going there on the way home from an
emotionally and intellectually tough trip to my hometown outside of Cleveland
.  When you've spent the last two days in what felt like the valley of the shadow, and talked out loud to yourself the whole drive back about why you and others  continue to work so hard for beat up places that sometimes don't ever seem to get better, summoning enthusiasm for the kind of place that All The Money Went To…
Let's just say I didn't feel the mojo was working when I walked in that day.
In my own dark (and yes, cranky) guts, I braced myself for an enthusiastic account of pretty pictures and the magic pill that many communities think form based codes will provide.  I expected something driven by some somebody's big ego.  Something without critical thinking behind it, and perhaps less staying power as a result.  Not like I haven't seen that before.
What I didn't expect to hear about was the
thoughtful consideratio
n, the reasoning together, that underpinned the decision to invest a comfortable, conservative… and 
older… 
community's resources in a profound change in direction. The consideration and reasoning that made the uncomfortable stretch into a future very different from the present possible.
Here's what they did: before the plan, before the picture, before anyone asked Council for a penny, the city manager crafted a community discussion.  He publicized factual information about changes in the region's demographics.  He recruited thoughtful experts in issues like economic change and fiscal implications.  They hosted presentation and round tables about the big questions facing the future of the region – not just the future of their town.
Not an agenda to support a plan in process, not trying to work the PR machine to win support of a development,  just issues on the horizon that might or might not impact the future of this community.
More importantly, the community, its leaders and residents, had a conversation- or rather, a series of interconnected conversations about what that information implied for the city's future.  And by the time a proposal came forward to make big changes, a large portion of the community and its elected and informal leadership has a pretty clear-eyed understanding of the challenges and the options.
That groundwork, the quiet, rational, non-ideological discussion– made a
historically unthinkable change in direction possible
.
—
Put aside all that idealistic stuff about public engagement for a minute.  Transparency, democratic process, people have a right to know… yah, yah.  Got it.
For a moment, be purely selfish.
The fact of the matter is that we screw ourselves over as professionals when we don't have those conversations right at the beginning.  We make the whole process of doing our jobs 47 times harder on ourselves than it should be.  The simple fact of the matter is that you know there's stuff that your community needs to deal with, and not dealing with it is compacting your budgets and your staff and your time to the point where the most basic parts of the job get harder and harder.  You need stuff to change – better tax base, more efficient land use, less money getting sucked up into roads and pipes and programs that aren't generating a decent return on investment.  And you know this is the case all over, so job-hunting doesn't get you out of the mess.
People who don't work in your field are not going to see the emerging issues that are self evident to those of us who do.  They're not going to intuitively understand what you're seeing any better than you're going to be able to anticipate what 3-D printing will enable 10 years from now.
And it's psychological fact: when people don't have good information to work from, they over-rely on their past experience.  "It worked just fine 10 years ago, why upset the apple cart?"   That's not an age issue or a gender issue, although age and gender roles might lead one to put even more emphasis on past experience or influence how a person communicates that.
It's a human condition issue. And the only way to counteract that bias, that the future should look like the present, is to give our rational minds the information it needs to shift its gears.   That's the way human creatures work.
So why do most communities fail to have intelligent conversations about their futures?
—
We have a tendency in local government to assume that people won't listen to reason — we point to lots of situations where residents say stupid things or make assumptions that, given the more extensive level of information we have to work with,  just don't make sense.  Even though we "told" them what the facts were, they "chose" not to listen.
Good teachers know that just telling someone something verbally doesn't mean it will stick in their head.  That's why teachers don't just tell you something once.  You hear it in a lecture, you read it in the book, you do a project, you write a paper.  People need to interact with new information on multiple levels, and do that over time.  If you want someone to understand something, just telling them doesn't cut it.
And yet, in local government, most of the time that's all we do.  No wonder they can't mentally shift away from the status quo.  No wonder they don't see the threats and opportunities we know about.
A fundamental purpose of our work –in any kind of local government or community management– has to change.  We have to become managers and facilitators of community conversations, not just presentation-givers, open-house-when-the-plan-is-all-but-done-holders, grouse-helplessly-to-each-other-when-they-don't-get-it-ers.  We can't keep falling back on "it's complicated…you wouldn't understand…trust us."  And then wonder why people don't see the need for change.
Dublin did just that.  Rather than try to shove everyone along to some pre-determined conclusion, skimp on building understanding and risk an ambitious plan blowing up in their face, they built a shared, broad-based understanding.  And that included people who could have very well become cranky old NIMBY cranks.